PBX Manager Business
PBX Manager Business include all the features of PBX Manager Pro plus advanced features like Queues management and CDR management.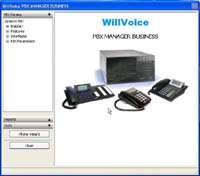 Features include:
Extensions
IP Phones
Hunt Groups
Ehanced Voicemail
Follow Me Feature
Trunks
Inbound calls
Outbound calls
IVR(s) auto attendant
VoIP Providers
Remote Offices
ACD Queues
Conferences
Fax/Virtual Fax
Music On Hold
Scripts
Calls Recording
Calls Details Records
Hardware:
VoIP Gateways
FXOS Telephony Boards
TAPI Devices & Modems
CellPhones
...
With your purchase, you'll be entitled to:
PBX Prolem Resolution Support.
Free technical support during for 1 year.
Free updates and upgrades for 1 year.
Access to private area containing additional help.